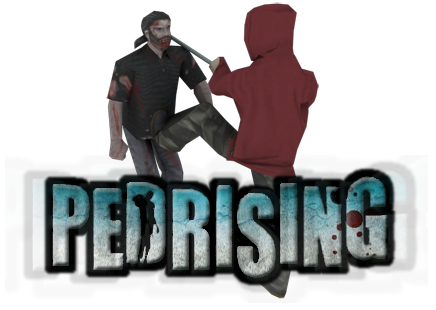 A zombie modification for Vice City
QUOTE (What is this?)

Inspired by DeadRising, PedRising brings zombie mayhem to the Vice City engine featuring an entire town, massive mall, original storyline, new weapons to the VC engine, soundtrack and much more.

QUOTE (The Team)



TeamRising is:


Futurama_Freak1 - Leader, Modeler, Animator
FlatFace - Co Leader, Modeler
TripleAs - Modeler
Gamerzworld - Hosting, Guinea Pig, PR

QUOTE (Current Openings)

Coder: TeamRising is currently looking for a skilled Vice City SCM coder. Experience with a past Vice City TC mod is preferred but not required. If you believe you are fit or know of someone who might do the trick, please shoot us an email at [email protected] .
QUOTE (Screenshots)




More screens in the Pictures section of the official site.

QUOTE (FAQ)

When will the mod be done?!
When it's done and then some.

Where can I download a beta?
You can't.

When is a beta coming?
Never.

How can I help?
Look at our position openings.