in the police boat there is a map inside...could this be the gamemap?
QUOTE

From Kikizo`s third GTA IV preview 23.01.08.

Kikizo:

We've made an approximate estimation of Liberty City 2008 based on what we scribbled down when we saw it: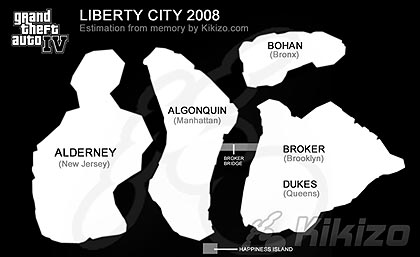 When we showed Rockstar a printout of a still from the recent trailer taken by a fan, which appears to show part of the Liberty City map circled in red, they could only remark, "My God!". The professional-level investigative work carried out by the GTA fan community never ceases to impress. For the record, the Rockstar staff were pretty sure that what we see in that shot probably "could be" the map but we were all too scared to declare it 100%. It seems pretty obvious though, judging by what we now know is the bona fide map.
Finally the map is confirmed:)