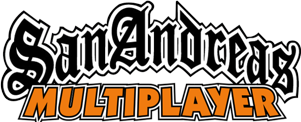 What is SA-MP?
SA-MP (San Andreas Multiplayer) is a multiplayer modifcation for Grand Theft Auto: San Andreas, allowing users to play against each other over the internet or LAN. This mod is available for the PC version only.
Download SA-MP
You can download SA-MP from
GTAGarage
or from
the SA-MP website
. Once you have downloaded it, install it to your GTA San Andreas directory.
Joining a Server
Open SA-MP and use the three tabs at the bottom (
Favourites
,
Internet
and
Official
) to locate a server. Click on the
Internet
tab for a full list of all the available servers, and click on
Official
to see only the official servers. Then simply select the server that you wish to join, and click on the green connect button. Remember to enter a nickname before joining.
Controls
All of the controls are the same as in single-player, and you can change these by going to
Options -> Controller Setup -> Redefine Controls.
However, there are also a few extra commands you need to remember:
| Key | Description |
| --- | --- |
| Shift | Selects a character at the spawn screen. |
| T/F6 | Enables you to chat in-game. |
| G | Allows you to enter a vehicle as a passenger. |
| Horn (CAPS) | Initiates passenger driveby if player has Micro Uzi, Tec9 or MP5 in hand and is passenger. |
| F1 | Displays the in-game help menu. |
| F4 | Allows you to change your character (after death) |
| F5 | Shows network data (e.g bandwidth usage) |
| F7 | Hides the chat window. |
| F8 | Captures a screenshot. |
| F9 | Hides the death window. |
A Few Points
Purchase weapons at the Ammu-Nation stores. These stores are represented by a gun icon on the radar, and there is at least one in each city.
Use the vending machines to re-gain health, or visit one of the restaurants (Burger Shot, Cluckin' Bell, The Well Stacked Pizza.) Click here for a map of all the restaurants.
Related Links