Tips...
Always try to overtake Hilary on opposite lanes. If you he's drving on the right, drive to the left or vice versa. Use the sidewalks whenever necessary like when vehicles are about to come.

If you want to drive fast around a corner, slow down first and steer away from the corner, and then steer to that corner (never use brakes). Sometimes the handbrake is also useful for this.

It is always possible to catch up and beat Hilary when you get a long stretch of road to drive on like when near Ocean Beach's "Ammunation" or Washington Beach's "Bunch of Tools".
"The Race with Hilary" (The Driver) is easy once you do something like this:
You need to make sure you drive on opposite lanes to overtake Hilary, and be in 1st place as soon as the "Illegal Street Racing" appears. Now keep driving on the left lane and Hilary will drive to the right. Once you you are close to the Washington Mall, slow down and wait for Hilary. Once he is near to the pathway that leads to the upper level parking lot, immediately ram his vehicle to the right! That's about it. He should automatically drive inside even when that wasn't his attention. Just blow up his wheels for an easy win.
STEP 1:
Be in first place like where I am now, and slow down slightly to wait for Hilary. Go towards the left lane so that Hilary can drive on the right. Prepare yourself for the pathway ramming technique!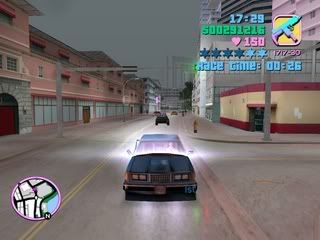 STEP 2:
So ram Hilary's car to the right and he should do this.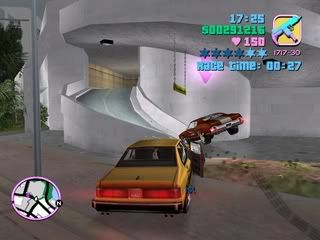 STEP 3:
All Hilary will be doing is driving up the loop that leads to the parking lot above the mall.
STEP 4:
He should be here.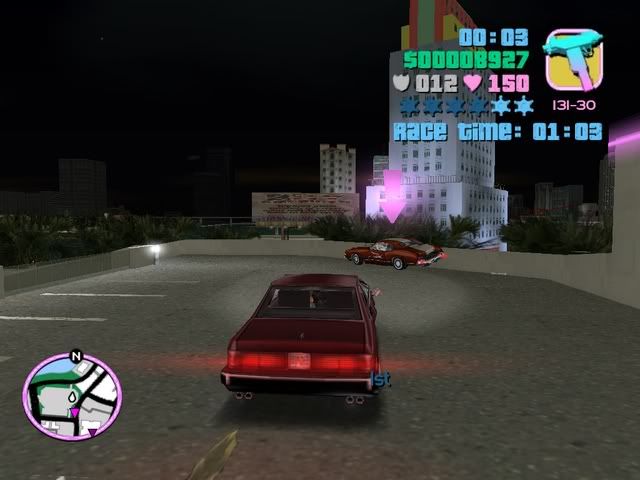 STEP 5:
Shoot off his wheels and now drive in any fast/slow car you desire!
Note: It is very useful to fish-tail Hilary out of the way as soon as "Illegal Street Racing" appears (this gives you time to plan out your strategy). It's not hard at all. Ram the front side of your car near to his wheels and then accelerate away from him. Just don't do things like ramming your car at the door sides because you will fail since the Sabre Turbo is heavier. Always aim directly at the back wheels.
After doing these steps, you are *guarenteed* an automatic victory! The game may never even spawn Hilary on the road again.