Hello
as I know a bit of modding, I want to share my knowledge, so here's an "easy to learn" tutorial.
Recommended Programs:
Zanoza Modeler 1.07
IMG tool
TXD Workshop
(They're all I use)
ok, lets get started, we wanna make a simple Gun for GTA:VC, first, you need ZModeler V1.07, it has to be registered.
Start it, if you want, you can get Blueprints, I use
Suurland
or
The Blueprints
, we're going to make a Glock.
They are 4 views I use, 3D, Right, Front and Top.
The 3D view, is where you can see your model in 3D
Right, Model In Right
Front, Model In Front
Top, model From Top
pretty easy, huh?
Oh, I almost forgot, to load a picture, click on the corner of thee view, in this case, the Right View, there is a little button at the corner, click on it, and you will get a list, select the last option "Background" and click "Load Image", then, select the image, and then open, then "OK"
this program is very, very easy to use, Lets use a Cube for the "Slider"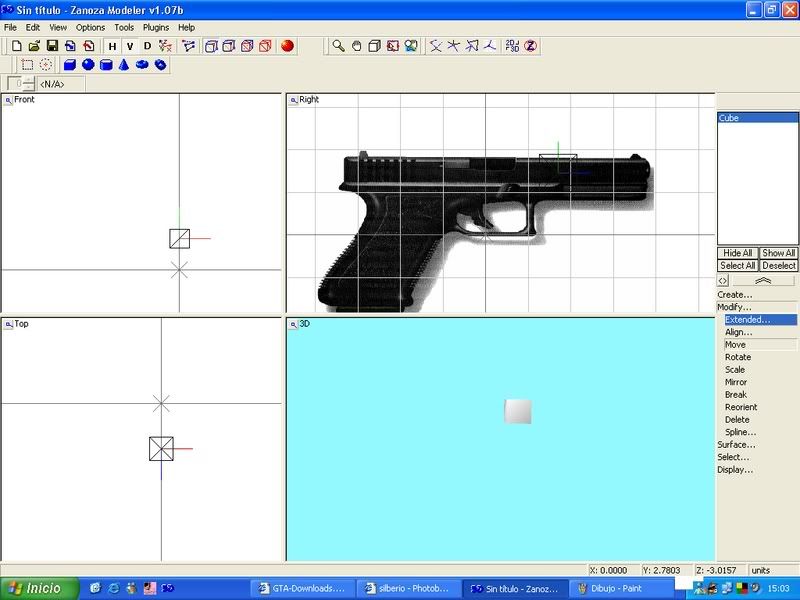 there's the Cube, now we must make it fit, select the Verticles mode by clicking this little button
and click on the cube, now some red dots should appear on the Corners, now click Modify ->Move, and Drag the dots to fit:
now, we're going to make the barrel, make a single tube
keep making shapes until you got all the picture in the background covered:
(continue to next post)