This is a comprehensive tutorial for ZMod 1 and 2 in creating Gull/Scissor doorz
for your GTA III-Vice and SA models, so... lets get to it!
I am assuming that you have
your own
model and most of the modeling is done.
After creating or importing your vehicles dummies, you will need to align them all to their
parts axis', the doors of course, are the focus of this tute... let's start there.
1]
Place all of your doors axis' on the point where you want them to rotate (pivot point).
Then, align your respective dummy to the parts' axis, I suggest zooming in until the zoom limit
is reached for better accuracy, if your axis is off from the dummy, your door will not sit right on the model.
This is a Gull door set up~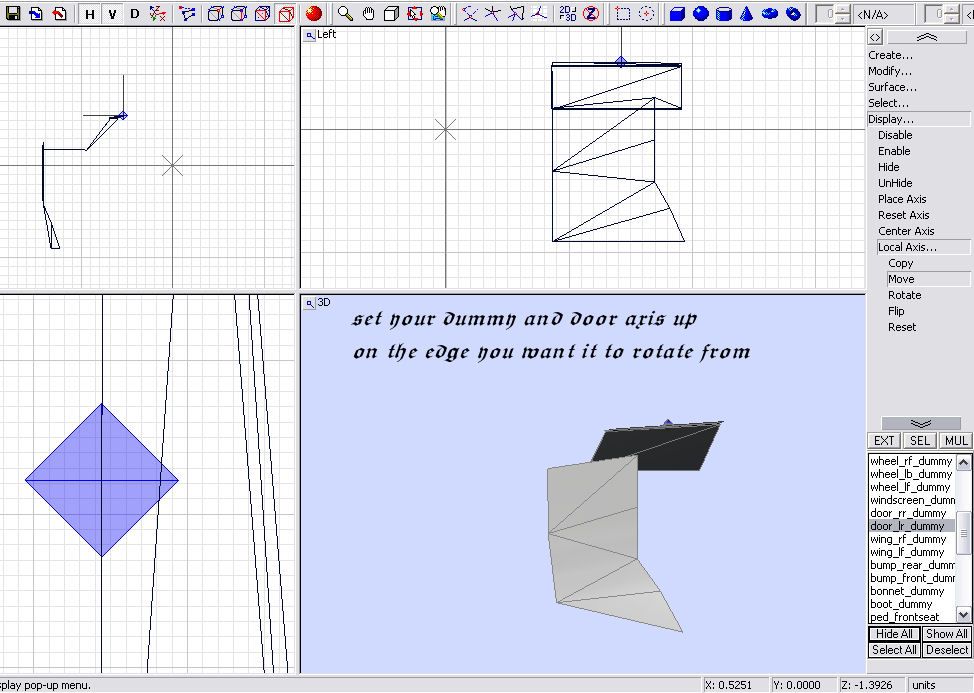 This is a Scissor door set up~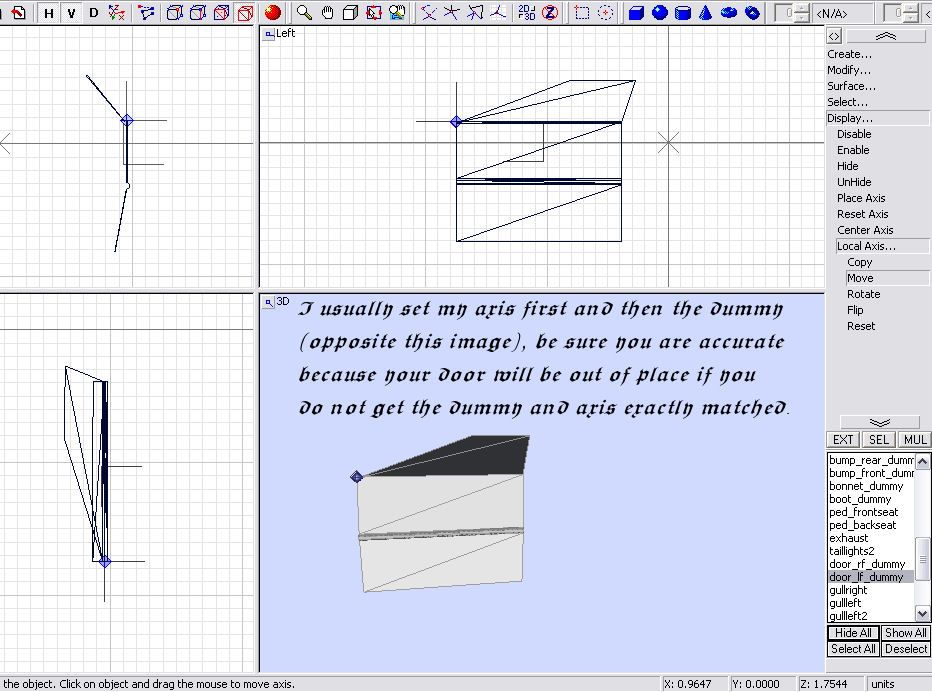 2]
Next, copy one of your door dummies ('Create'+'Objects'+'Copy') and name it 'gullleft'.
Copy it again and name it 'gullright'. Select both new dummies and move them to where they will
not be seen (trunk area or engine compartment).
3]
Now that you have your new dummies, your door dummies and doors all ready to go...
we will set the axis' rotation.
~FOR GULL
...
In your objects window, select 'hide all'. Then, select both (L&R) doors, both door dummies and both gull dummies
in your objects list (*GULL ONLY!). Depress the 'SelectAll' button (bottom of object list) and the 'SEL' button
(top of the objects window). Now, in the modify panel, depress 'display' - 'local axis' - 'rotate'.
Place your curser on top of any shown part/dummy in a
side view
and rotate the axis of ALL
respective parts until desired angle is achieved.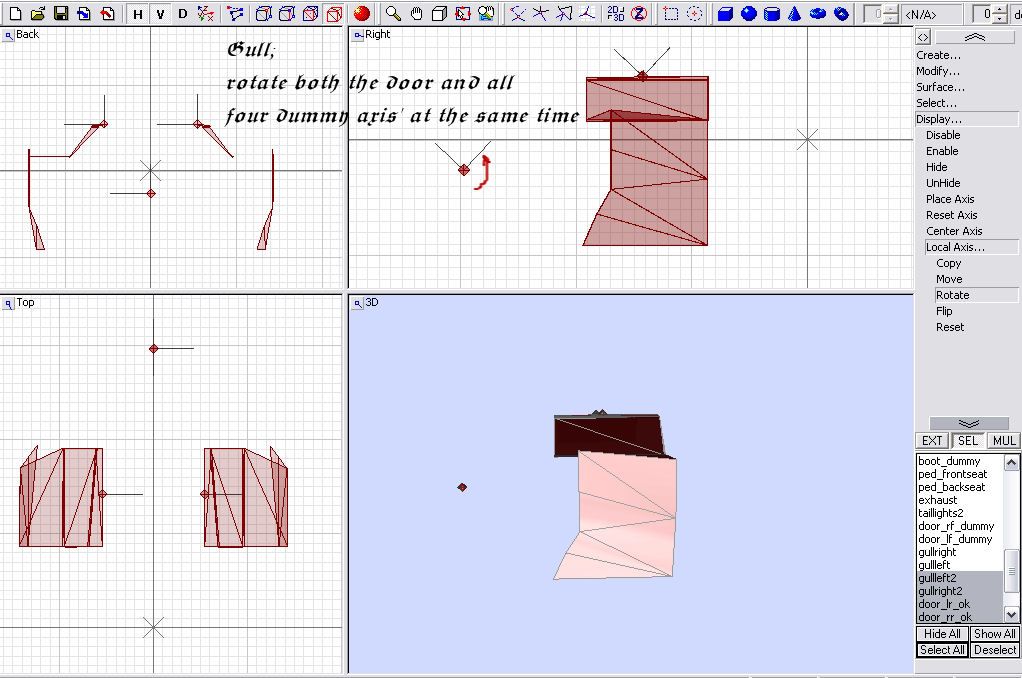 ~FOR SCISSOR
...
You will need to select and rotate lefts and rights seperately. So, select the left door, left door dummy
and the gullleft dummy and rotate the axis' in a
front view
window until desired angle is achieved.
Then repeat the steps with the right side.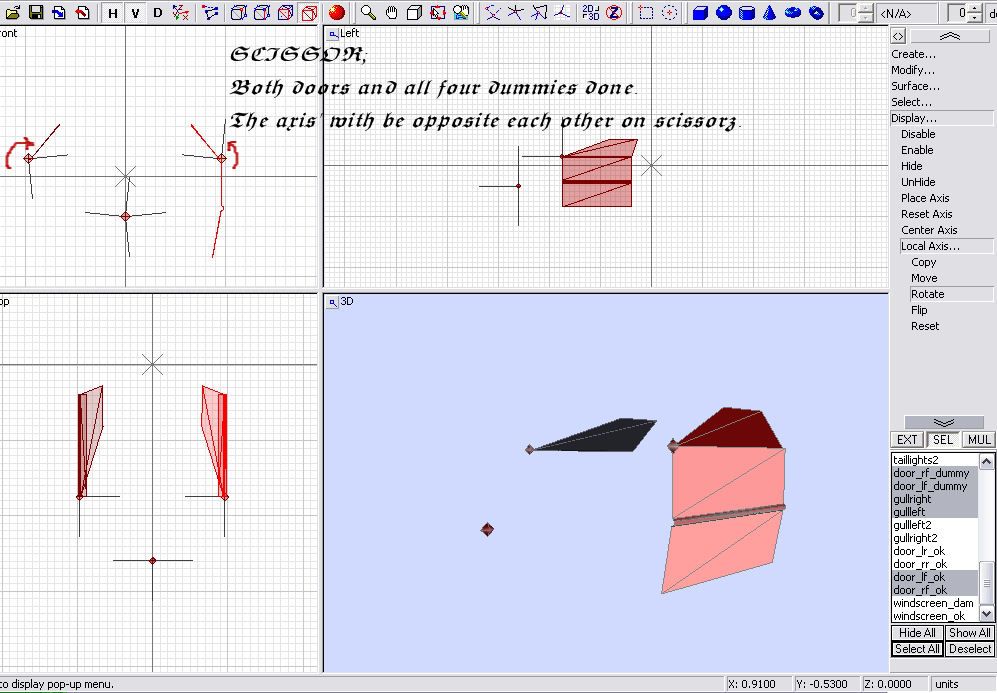 All you have left is the Hierarchy!... pretty damn easy eh?
4]
Set up the Hierarchy as normal except with these minor differences (see image)... and that's it!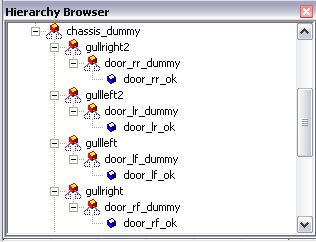 This tutorial will apply to both ZM1 and ZM2 with only minor differences in ZM2.
Even though the images are ZM specific, you can use this tute for MAX, GMAX
and just about any other modeling program used to mod the GTA game series.
If you don't know how to apply these instructions to ZM2 or MAX, then I guess
you're assed out ~lol.
If you are doing a four door, you only need to repeat the process but this time,
name the Gull dummies 'gullleft2' and 'gullright2' (as shown in the hierarchy shot).
Thanks goes to Yakuza for lending me his Spectical back in the day so I could reverse-engineer this knowledge.
Hope this helps the hopefulls. Thank youz to all the original old school katz that have contributed to the extensive
knowledge available about modding and for providing their tools.
Happy modeling!