Sanny Builder is a fast and powerful tool designed for the GTA 3D game series (GTA3, VC, SA; partially LCS and VCS). It is aimed to make the process of editing game scripts and missions as easy as it's possible.

It includes a disassembler, permitting the end-user to quickly disassemble the MAIN.SCM file which contains game scripts, and a compiler which produces a binary script file readable by the game.
The editor itself offers a large number of useful functions such as; syntax highlighting, error checking, advanced search tools, player coordinates reading, fast movement through code and much more.

Sanny offers an advanced code syntax which is similar to existing programming languages. This syntax includes changeable classes, keywords and high-level statements. We recommend you continue reading and fully explore the help section to learn more about SB and its capabilities. We provide a wealth of information that will help you get started in mission coding. Now that you have discovered some of the possibilities.

Official website: http://sannybuilder.com

Current version: 3.2.2

Last update: 2014-07-05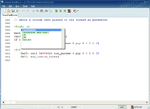 Further reading at GTAModding.com:
Follow me @SannyBuilderDev