This mod makes the stunt plane in GTA San Andreas black & fluro yellow.
Though not really much more than a carcols edit (and thus, arguably not really worthy of the title "mod"), this release is intended to colour the plane to fit in more with the entire range of DRuG plane texture mods.
Unfortunately the texturing of the stunt plane is within the dff, rather than a wing decal in the texture file, thus a simple texture mod wouldn't have sufficed. Given the plane's art is already pretty cool, I decided just to make the colours a little better.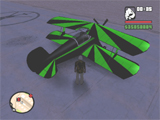 Download now
I couldn't stop tweaking, so here's another..
This mod makes the Shamal in GTA San Andreas black with Ximian monkeys on the tail and wingtips.
The texture resolution has been tripled and all the detailing redone finely to suit, including a replacement door originally from a Boeing 717.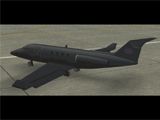 Download now
Nearly all the planes done