I made a firefox extension, based on the well-known BBcode firefox extension. It adds support for (almost) all message-tags to the background menu including the GTAforums specific ones.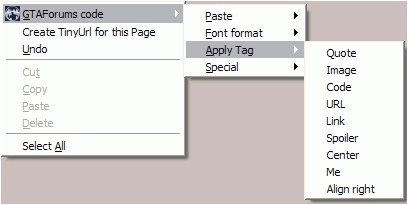 (Feb, 17 2011)Version 0.5.4 is Firefox 4.0.x compatible
(May, 25 2009)Version 0.4.2 topic item bugfix, and BBcode available outside gtaforums.com.
(May, 17 2009)Version 0.4.1 fixes a typo.
(May, 17 2009)Version 0.4.0 adds context sensitive menu's when browsing gtaforums.com.
(Mar, 31 2009)Version 0.3.4 adds some BBcodes and enables auto-update.
(Mar, 30 2009)Version 0.3.3 is Firefox 3.0.x compatible


Install
• Install GTAFcode from HERE
• Restart firefox when prompted.
• You will automatically be notified of updates.

From now on you should see a gtaforum code menu entry in the background menu whenever you're in an editwindow.

How to use
Most of the entries should be self explaining, the only thing that might need some explanation is the support for the table/tableb tags.
You should just write the content of your table thereby separating horizontal cels with a '|' character, and separating the rows with a newline. To render a cell as a header, you should prefix is with a "*".
When your done typing, select the whole block and choose (bordered) table from the special submenu to convert it to proper tags.
e.g.
*cel1|*cel2
more cels|and yet another|last one

wil result in:

cel1
cel2
more cels
and yet another
last one
If no text was selected when you issued the table command, you will be prompted for content (use '|' and '*' to separate fields and make headers) and you can stop by entering a empty row.

Context menu
Depending on the content of the page your looking at the background menu will provide you with "gtaforums.com links","category menu", "forum menu", "topic menu" and "member menu". e.g. if your looking at a profile it will get the "gtaforums.com links" and the "member menu", but while reading a topic the "gtaforums.com links", the "Forum menu" and the "Topic Menu" will be available.


| Gtaforums.com links | Category Menu | Forum Menu | Topic Menu | Member Men |
| --- | --- | --- | --- | --- |
| Board Index | Search... | Search... | Search... | Send PM |
| View New Posts | | Subscribe | Subscribe | View Posts from ... |
| Mark Board Read | | mark as Read | Print/Download | Add to contacts |
| My Controls | | | Who Posted? | Report this user |
| My Inbox | | | | Profile |
| My Last Posts | | | | Gtagarage Profile |
| Search | | | | |
| Members | | | | |
| Moderating team | | | | |
| Todays active topics | | | | |
| Todays top 10 posters | | | | |
Link Menu
When right-clicking on a link, the menu however does does not depend upon what you're currently looking at, but upon the target of the link. (E.g. if you right-click on a link to a profile, you'll get the "Member menu").

Selection menu
If you've got a piece of text selected, right-clicking will show you the "Search Menu". Depending on your context, you'll get different options, like "Search as member", "Search Whole Board", "Search topics in Current Forum" and "Search Posts in Current Topic". If you're right-clicking on a forum or topic link, while a piece of text is seledted, you'll even get the option to search for the selected text in the target of the link you're clicking on. (e.g. "Search Topics in This Forum").
The description above might sound a bit complex, but if you work with it, it will feel very intuitive.

Technology
This extension (like any firefox extension) is written in RDF (Resource Description Framework), XUL (XML UserInterface Language) and Java-Script. The only tools that are needed are a plain text-editor (even notepad will do) and winzip.