Hello and welcome to my Muscle And Fitness program. There is a lot of basic information about everything in here along with good supplement advice and workout plans. Follow through the topic and pic out what you like or what helps you. If anyone has any personal questions and would like me to set up a diet or workout plan for them personally just PM me and i would be happy to do so, ThankYou.



Well there are many diffrent things you need to know and should try to learn and understand before attempting anything that people tell you that you are not sure of. This part is for skinny people or smaller people who want to put on weight and muscle. Ok well i will only say this once, 70% part of muscle gain is your diet. You have to eat all the right things and LOTS of them if you plan on gaining size and mass. You have to overload your body with food that it isn't use to having so it has no choice but to expand to a bigger size. A big factor of this is MUCH more protein, protein is what helps you grow size and get bigger and if you do not get enough protein you will not be able to do so. Protein can be found in various foods such as Meat,Fish,Chicken and Pasta products. With this in mind remember you want to put on lean size and muscle not loads of fat. Now it would be a lie for me to tell you that you can build 20 pounds of muscle without getting a few of fat because it does happen and it will happen but the best way to help reduce is by eating right. When i say that chicken has high protein don't run to your local fast food restaurant and get deep fried fatty chicken, try a store baught skinless,boneless chicken cooked in olive oil with 0 transfats. Now a way for people to get to protein they need without overloading on food when your not hungry is to buy mixed protein at a local helthfood or fitness store. You want to be sure your getting 100% Whey protein. Don't get anything just because it has a shiney label on it. There are diffrent kinds of proteins mixed with other things out there to make people gain weight but trust me it's just goin to load you with calories and give you 1 big spair tire in your stomac. 100% Whey protein in a 5lb tub will run you 45-60$ however it will last for quite some time. when taking protein your aiming for 1 gram of protein per pound of your weight. Most proteins will have 28 grams per serving and you can mix it with pretty much anything but i reccomend Milk to be the best tasting. You might wana blend it or put it in a shaker to reduce chunks. You can get many diffrent flavors such as Venilla and Strawberry and they actually taste good so it's not really a pain in the ass to take. Now remember 1 gram of protein per pound also hs to include what you eat during the day. You can't say oh my weight is 175 so ill drink 175 grams worth of protein because you have to account for the protein you eat, and yes TO much protein can be dangerous to your kidney's. Now that you have your diet and protein getting into you don't make the mistake in thinking that running 10 miles a day will keep the fat off and let you grow pure muscle size because you are just wearing off the calories you spent all day eating to get. You need them to help your body grow it's size and by doing TO much cartio you will ruin your plan. Now for your workout, the best thing to do is bring some music because music will always keep you in the mood and help your pumping. Your best to get on a pedal bike and do a slow bike ride for about 3-5 minutes before doing your workout to help your heart get moving and your blood pumping. Always have a set routine never go to the gym and decide what your gonna do that day because it won't get done properly and you wana work out muscles on certain days because muscles can effects others. While trying to GAIN mass and weight always do HEAVY weights with less reps. Now by heavy i don't mean take so much that you hurt yourself, your gonna wana take a nice weight that you have a hard time doing and if you can do it 15 times no trouble then it is to light. Now while doing your workout always increase the weight every set don't do the same weight twice. You need to push your muscles to a max for them to grow, they need to be pushed to their limits. Now if your looking to get into a serious there are some good supplements that work and can help you. Creatine Monohydrate works and will definetly help you. What is does is pumps water to your mucles to keep them hydrated and make sure they are working full tilt on every rep. It also helps repair muscles so that after a long hard day at the gym your muscles can get the rest and repair they need to get right back in to the max again tommorow. Also Tribulus is a very good natural Hormone booster, It is not a hormone itself it helps your hormones grow stronger and hormones also control your size and strength that's what makes a man a man and a women a women is hormones. They are only 30$ a bottle for 90 pills which should last a month and a half maybe more. You take 2 at a time twice a day which is 4 caps per day and any givin time. You will notice a great increase in stregth after just a few caps i know from expirence because those are what i am currently taking now. Now that we have you set up with a diet plan and your supplements let's get to your workout.



You can have as many day workout as you want, but you will need at least 2 days of rest sometime in your workout because remember muscles don't grow in the gym they grow while resting.

I train biceps once a week with triceps, alternating which muscle group i do first from week to week. I always leave at least 2 days between back and bicept workouts. Because a heavy back workout can completely deplete your bicept and secondary movers. They need adequate time to recover to be ready for a full workout later in the week.



Workout #1

Chest and Abbs.

Barbell Bench Press ( free weight ) Always use free weight's if possible instead of Smith machine.
5 Sets/reps- 15,12,10,8,6

Flye's- You can do freewight flye's. Keeping a slight bend in your elbows throughout, loswer the weights in an arc out to each side until your upper arms are about parallel to the floor. Flex your pecs to return the dumbbells to the start, stoping just before they touch each other. You will be doing this laying flat on a bench with 1 dumbbell in each hand. You can also do this on the smith machine where you attach 1 single hand grip to each side and cross your arms infront of your chest but i do reccomend free weight.

5 Sets/reps-12,12,10,10,10

Hammer-Strength Machine/Incline Press

Start: Set the seat so your elbows are level with the handles and grasp them overhand.

Move: Press the handles forward, keeping your elbows and wrists aligned behind them. Stop just before your elbow lockout; at the bottom, don't allow the weight to touch down.

4 Sets/Reps-6,8,10,12

Peck Deck- You will have 2 handles one of each side of you that you pull together and release. That is to work your pecks and you wana use nice heavy weight on that.

Sets 2/Reps-To Failure

Incline Bench Press

It is the same thing as regular bench press except your bench will be on an incline.

Sets 5/Reps 15,12,10,8,6

Abb's

Mechine Crunch: The crunch machine is where you sit down and you bend your abb's forward and you can tinker around with the weight but make it fairly heavy,

Sets 3/Reps-20,20,20

Knee Raise: Sit flat out on a bench and put your butt near the end of it and leave your leg's hanging down then pull your knee's to your chest.

Sets 3/Reps-20,20,20

Elevation's: If you have a machine for it which most gym's do, you'r hanging in the ari holding on to 2 handles and you raise your legs straight up in the air then back down.

Sets 3/Reps-20,20,20

Workout #2

Back&Legs

Back:

Start with pull up's such as reverse chin ups. Use your chin up bar and grab a wide grip with your palms facing away from you, the oposite of a chin up and pull up and let yourself down and pull up again. Some gym's will have a special machine but if they do not that is the best way to do them.

Sets 3/Reps 10,10,10

Pull downs: You will have a long bar that has a slite bend at the end of it where you grip it. The grip will be wide and you just sit down and use your back to pull the bar to your chest.

Sets 5/Reps-15,12,10,8,6


Row Boat: You will be sitting down a flat bench with a handle infront of you, set the weight and grab the handle. Use your back to pull the handle straight in to your chest with a slite bend in your back.

Sets 4/Reps-12,10,8,6

Back Pulls: There will be a machine where you stand up and lean over a bad and you will grab a stick shaped pully by it's handles and pull straight up to your chest. The handle will have 3 diffrent grips wide, middle, and short. Use a diffrent grip for each set starting on the top.

Sets 3/Reps-12-12-10

Legs

Leg press: This is where you just sit down and push out on a platform with your legs.

Calve Raise: You sit down and put your knee's under a patted bar that you use your caves to raise, set a good weight because it is a good workout for your calves.

Leg Raise: This is where you sit down and put your legs under a patted bar and lift them up.

Sets 3/Reps-15,12,10

Lay down leg raise: This is when you lay down on your stomac and do the same thing raise your legs.

Sets 3/Reps- 15,12,10

Squats- Best to use the smith machine because it can be dangerous. You put the bar on your neckbone and bend your legs down as far as you can go and use your leg's to push yourself back up.

Workout #3

Sholder's And Abbs

Sholder Press: Sit down on a bench with the back of it straight up. Take 1 dumbbell in each hand and push the over your head and come back down bending your elbows and square up then push back up.

Sets 5/Reps-15,12,10,8,6

Sholder Raise: Unless you have strong sholder's i wouldn't reccomend this, i do it because it is one hell of a good workout. You take 1 light dumbbell in each hand standing up, put them together infront of your body and straighten your arms to your side until they are completly straight and hold for 3 seconds.

Sets 4/Reps-10,10,8,6

Schrugs- Use the smith machine of take 1 free weight dumbbell in each hand and keep them straight down on your side and use your sholders to lift them just a little bit, barly moving the weights and all. That workout is for your trapts on the top of your sholders. You can also do behind the back one's if you want.

Sets 5/Reps-15,12,10,8,8

Raise: Take a barbell a long with with weights on each side, grab it fairly close grip and raise it to your chin hight.

Sets 4/Reps-12,10,8,8

Abb's: The same workouts i mentioned previously.

Bicepts And Tricepts

Bicept's:

Standing Barbell Curl: Hold a barbell in front of your thighs with a sholder-width underhand grip. Shift your arms slightly forward so your elbows press into the sides of your ribcage.With your sholders down and back, slowly curl the bar toward your sholders without using momentum, keeping your uppser body steady. Reverse the motion and go to full extension at the bottom.

Sets 4/Reps 15,12,10,10

Standing EZ-Bar Spider Curl: Flip the pad on a preacher bench so your chest and abs rest on the inclined side and your arms lie along the flat, vertical side. Lean into the pad so your bodyweight is partially supported; allow your arms to hang straight down from your sholders. Take an underhand grip on an EZ bar.

Sets 4/Reps 15,12,10,10

Alternating Dumbbell Hammer Curl: Hold a pair of dumbbells alongside your thighs with your palms facing in and your sholders down and back. Using one arm at a time and with your wrists facing your body throughout, curl the dumbbell up and slowly lower it to the start, maintaining an even tempo as you go. Alternate every rep.

Sets 4/Reps 10-12

Seated Alternating Dumbbell Curl: Sit up at the end of a flat bench or an short-back bench and hold a pair of dumbbells just outside your thighs, palms turned inward to face your body. Lift one dumbbell at a time toward your sholders, simultaneously turning your wrights as you lift so your palms move from a neutral grip at the bottom to an EZ-Bar-Type grip in the middle ( angled inward ) to a supinated ( palms up ) grip at the top.

Sets 4/Reps 10,8,8,6

Tricepts:

Cable Overhead Extension

Attach a rope to a highends of it with your pinky fingers against the balls or knotted ends. Bend your arms so your elbows point directly forward and your hands are behind your head. Stand far enough away from the stack so the cable is under tension.

Use a stride stance ( one leg in front of the other ) for greater balance, and bend forward at your waist approximately 30 degrees.

Inhale and hold your breath, then extend your forearms, keeping your upper arms in place. Straighteen your arms fully and hold this position for 1-2 seconds.

Sets 4/Reps-12-10-8-6

Using the same rope as in the previous excercise pull the rope straight down and pull your hands to their side. Then let your arms go back up until your body is square which isn't that far and continue the same motion.

Sets 5/Reps-15,12,10,8,6

Bench press tricept: It is another form of bench press except you keep your hands close together. You can use the smith machine the same way you would with regular chest bench press or you can use the machine set up for it.




[center]


[center]Well now that you have been set up with everything you need it is up to you to commit yourself to doing everything you have been told. Remember training to much will hurt you more then it will help. Also watch out for supplements that can hurt you and that don't work. The following is a list of supplements that do work if you wana check them out. Any questions just PM and i would be glad to help you. I almost forgot to mention, DRINK WATER you need to keep your body and muscles Hydrated always drink lots of water while working out before and after. It may also be good to eat a protein bar before working out to send some protein and carbs to your body for your workout.
[center]


• CellTech

• Whey Protein

• Creatine Monohydrate

• Nitro-Tech

• Tribulus

• T3

• Animal Stacks

• Glutamine

• Thermo Gain

• Thermo Lean

• Pump Tech






For those of you that already have muscle and are a nice big size but you have fatty muscles and want to get them defined. All you need to do is that same workout you do now but with light weights and more reps. Eat healthy and less fats, no junk food eating at night and lots of cartio. There are supplements to help you with this also such as Rev and Thermolean.


For those of you who are looking to slim down and and get a figured 6 pack here are some tips that can send you on your way. First best thing to do is drink as much water as you can, at least 8 glasses a day if possible because that will let your body know it's ok to let the water it's holding inside your body out which can be taking on some extra pounds. Second healthy eating, don't eat anything past 9pm and cut back on the fat, instead of fries try a baked potato or salad, instead of a gresse macdonalds hamburger ty the grilled chicken. You must cut down on your eating habbit's to reduce your weight. Excercise everyday weather it's biking or walking or running always make sure you are doing excercise and i don't mean a 5 min bike around your yard, get on for at least 20 minutes a day and get your body active. Now for that 6 pack there are some have decent workouts you can follow. Decline crunchs if you can get a bench put it on a decline and hang downward and do short movements crunching your stomac, you can also do this excercise laying flat. Hanging Knee Raise, use the machine to elevate yourself and while hanging raise your knees to your chest, you can also do this sitting down. The all famous regular sit up, you know how it's done so try and get some done. Leg raise, lift your leg's straight up into the air and come back down but don't touch the ground hold it just off the ground for a few seconds and elevate again.



10 Things You Must Do To Gain Mass




The Wise Words Of Anthony Ellis




1. Weight Train


Weight training involves the use of equipment that enables variable resistance. This resistance can come in the form of "free weights" like barbells and dumbbells, machines that use cables or pulleys to help you lift the weight and bodyweight exercises like pull-ups or dips.

For anyone trying to gain muscle, several things must be done. One is to train with heavy weights. By heavy I mean a weight that is challenging for YOU. The average guy in the gym usually works with a weight he can lift for 10-15+ reps. For mass gaining purposes, this is too light. Using an appropriate weight, you should only be able to do 4-8 reps. That's it! Using heavy weights and low reps puts your muscles and nervous system under much more stress than using lighter weights for many reps. This added stress causes the involvement and stimulation of more muscle fibers, which will cause rapid muscle growth.

For maximum muscle gain, the focus of your workouts should consist of free weight exercises. Not machines or bodyweight exercises. This is not to say that you shoud not use machines or bodyweight exercises, but they should not be the focus of your training. To get an effective, muscle blasting workout, you must stimulate the most muscle fibers as possible, and machines do not do this.

The main reason for this is a lack of stabilizer and synergist muscle development. Stabilizer and synergist muscles are supporting muscles that assist the main muscle in performing a complex lift. The more stabilizers and synergists worked, the more muscle fibers stimulated. Multi-jointed free weight exercises like the bench press, require many stabilizer and synergistic muscle assistance to complete the lift. On the other hand doing a bench press using a machine will need almost no stabilizer assistance. Click here for my favorite mass building exercises..

If you are working out at home, make sure you check out this site for some greate home fitness equipment.


2. Eat More Calories

The most important thing that I cannot emphasize is that you need to eat to gain weight. You need to eat like you've never eaten before. If you are not eating enough calories, you will NEVER gain weight, no matter what you do. In order to build new muscle, you must eat more calories than your body burns off, creating what is called a caloric surplus. To gain mass, you should strive to eat around 18-20 times your bodyweight in calories. The extra calories will be used by your body to repair muscle tissue that is damaged during the heavy workouts, and to build new muscle.

Now, when I say eat, I do not mean just anything. All calories are not created equal. In other words, some types of calories are not equal to others for gaining muscle. For example, if I said that you need to eat 2,000 calories per day to gain weight, and you eat 4 bags of potato chips each day, do you think you would gain muscle? Not likely. The majority of your weight would be fat. Why? Because potato chips, like most processed junk food, contains empty, totally nutritionless calories. These foods do not provide you with the correct nutrient breakdown essential for gaining muscle.


3. Eat More Protein

Without protein, your body will not be able to build new muscle. Years ago, a higher carbohydrate and lower fat diet was the rage, recommended by professional bodybuilders and trainers. They claimed that this was the only way to eat for muscle gain. Unfortunately, the only people gaining muscle on that type of diet were a genetically gifted few. The rest just got fat.

Carbs serve mainly as energy for the body, while protein provides the necessary amino acids to build and repair muscle. For muscle growth, carbohydrates are not as essential as protein and fats. High quality protein, which the body breaks down into amino acids, should be the center point of all your meals. There are many studies that show intense exercise increases demand for amino acids, which support muscle repair and growth.To build muscle, you should try to get at least 1g of protein per pound of bodyweight.

Whether you believe it or not, the fact is: High protein diets build more muscle when incorporated with intense training. Low protein diets do not. Period. Only protein can build muscle. Carbohydrates and fat cannot.

Here is one of the protein supplements that I recommend.


4. Eat More Often

To gain weight, you will be eating a large amount of calories. Unfortunately, your body can only assimilate a certain number of calories at each meal. For our purposes, eating three meals per day is not beneficial. If you had to eat 3,000 calories per day, then you would end up eating 1,000 calories at each meal. The average person can only use a portion of those calories. The excess will be stored as fat or removed from the body.

To enable your body to actually assimilate and use the 3,000 calories you will ingest, you have to reduce your meal size and increase your meal frequency. Splitting your calories into smaller, more frequent portions will enable food absorption and utilization of nutrients . I always eat six meals each day, evenly spaced out at three-hour intervals.

My goal is to provide my body with constant nourishment throughout the day. So if it typically takes about 2.5 hours to digest most meals, want to be eating another meal just as my last meal is leaving my stomach. I do this because my body is constantly in need of nutrients to repair itself. I do a lot of damage during my workouts and completely stress my system. My body is trying to "adapt to the stress," but in order to do this, it needs consistent fuel.

If I ate only three meals per day, then my body would be without nutrients for about six hours between each of those meals! This is unacceptable for skinny guys. Without food, your body will quickly begin to breakdown muscle tissue for energy.


5. Eat More Fat

If you want to gain muscle mass, you must eat enough dietary fat. Dietary fats play an essential role in hormone production, which in turn is responsible for growth and strength increases. I have never gained muscle on a low fat diet, though many people still believe that eating fat makes you fat. This is absolutely false. In fact, there is a very popular muscle gain diet that been around for years, called the "Anabolic Diet" that requires you to eat only fat! Butter, bacon, and heavy cream are all on the menu. Though quite extreme, this diet does work.

Most people are overweight because of a diet high in simple carbohydrates, not from eating fats. If your diet is too low in fat, your body will actually make a point to store any fat it gets, because it doesn't know when it will get more. A low-fat diet will also lower testosterone levels, something we do not want when trying to gain weight. Studies have shown that dietary fat has a direct relationship with testosterone production. An increase in dietary fat intake seems to bring on an increase in testosterone levels. The inverse is also true. A decrease in dietary fat intake is usually accompanied by a decrease in free testosterone levels.

However, you don't want to increase your intake of saturated fats. Saturated fats are what cause disease and coronary problems. Though you will always have some saturated fats in your diet, your main focus should be to increase your intake of Essential Fatty Acids (EFAs).

EFAs are unsaturated fats that are necessary for thousands of biological functions throughout the body. Because they cannot be manufactured by the body, the must be provided by your diet. These fatty acids not only help increase testosterone production, but they also aid in the prevention of muscle breakdown, help to increase your HDL level (good cholesterol) and assist in hormone production. To get your recommended amount of EFA's, I recommend supplementing your diet with either Udo's Perfect Oil Blend (which combines omega- and omega-6), or Cold-Pressed Flaxseed oil (which is mostly omega-3).


6. Drink More Water

To make sure that your muscles stay hydrated, you must drink plenty of water. Dehydration can happen easily if you train hard. A dehydrated muscle, takes longer to repair itself than one sufficiently hydrated.

Drinking a sufficient amount of water not only increases your vascularity (more visible veins), but it will also help to quickly remove toxins from the body. Protein generates metabolic waste products that must be dissolved in water. Without enough water, the kidneys cannot efficiently remove these wastes.



7. Take a Multi-Vitamin

There are many supplements and specific muscle gain enhancing products that I recommend using in my book, but I have to remember that this is only the 10 most important elements of a successful mass program. So, I have to keep this brief and to the point. All of the other products will help, but they are not essential. So, I will only touch on two vitamins supplements.Multi-Vitamins and Antioxidants.

If you want to gain muscle, you must make sure that you are not deficient in any vitamin, mineral or trace element that your body needs. I know many people are going to disagree with me, but I believe that in this day, we absolutely need to supplement our diet with vitamins and minerals. I know that those who are against using vitamins are going to say that if we "just eat a balanced diet. . . ", You know the rest.

Well first, eating a balanced diet is easier said than done. America is the most overweight country in the world. Most people don't even know what a "balanced" diet is. Balanced with what? Experts will continue to spout, "eat a balanced diet," while Americans feast on nutritionless fast food and sugar.

Second, not only do our bodies have to deal with the ever-increasing external stresses of everyday life, they also have to combat nutrient-depleting exercise. Food today is, for the most part, nutritionless - almost totally void of the body strengthening vitamins and minerals it contained one hundred years earlier. Instead, we now ingest over-processed, fiberless meals, and under-ripened vegetables grown in barren, over-farmed soil, laden with pesticides.

How healthy can that be? If you want to ignore the facts and continue on about "balanced diets," fine. It's your decision. But I, for one, eat a balanced diet, and I still take a multi-vitamin supplements.

Many mult-vitamin manufacturers try to put "everything" in their product, but it's not necessary. At minimum, your multi-vitamin should contain the USRDA (recommended daily allowance) of vitamins A, B-complex, C, D, E, K and the minerals calcium, magnesium, zinc, iodine, selenium, and possibly iron (for women). Men should find a multi-vitamin without iron. You typically get more than enough iron from your food. Extra iron is needed only for menstruating women.

It should also contain other essential nutrients like biotin, chromium, copper, manganese, molybdenum and pantothenic acid.

There are some vitamins and minerals that are best taken separately. Vitamin E, vitamin C, folic acid and calcium are best taken at higher dosages. Many proponents of multi-vitamins cite that taking that many vitamins and vitamins together causes negative interactions because they compete with each other for absorption. For example: magnesium, zinc, and calcium compete for absorption; copper and zinc also compete for absorption.

But think about this for a minute. This is no different than eating different foods at the same time, as most people do. The vitamins and minerals in the foods compete also. Competition is expected and the body is designed to handle that. Here is a good multi-vitamin that I use.


8. Take Antioxidants

An antioxidant like Vitamins A, C, E, Glutathione, Glutamine, and Selenium are essential in preventing free radical damage, which is accelerated after the heavy trauma of weight training. Antioxidants protect other substances by being oxidized themselves. Here's a good antioxidant blend that I also use.


9. Rest More Often

Rest is the most overlooked "skinny-guy secret". If you don't rest, you won't grow. Simple as that. Your body does not build muscle in the gym, it builds muscle while resting!

The key to successfully gaining weight is eating enough calories, training hard and then resting. No diet adjustments will make up for lack of rest. If you train hard in the gym, then you should be resting your muscles as much as possible. If you do not give them time to rest and repair, you will not grow. Period.



10. Be Consistent

O.K., so you want the secret to gaining muscle mass fast? Well, here it is: CONSISTENCY.

You can have the best diet, the best training schedule, join the best gym that has the best equipment, but without consistency it's all worthless.

Over the past 3 years, I've talked to hundreds of people who have successfully transformed their physique. Though most of them trained in totally different ways, there was one common denominator that appeared throughout each success story:

Day in and day out, they followed their pre-determined plan, consistently, without fail.

You must find the determination and drive within yourself to consistently put one foot in front of the other and see this through. If not now, then when?

"You never know what you can do, until you try to do more than you can." - Tony Blauer


--------------------------------------------------------------------------------

Think that this is too complicated or inconvenient?

Sometimes guys will complain to me about the perceived inconvenience of following a specific plan. I can see it's easy to make excuses, after all, I used to do the same thing.

Don't get caught up in this. The truth is, the hardest part any training routine is getting started. You've got to break your old habits and make new paths for yourself. Remember that saying,

"Do what you've always done, and get what you've always gotten".

Read it again.

Before I really learned the right way to gain muscle, I trained sporadically. I worked out when I felt like it. One week I might have trained five days, while another week I would train once or twice. As far as my routine was concerned, I did whatever seemed interesting at the time. Never keeping track of my sessions or planning my routines. I had been a member of a popular health club for 8 years, yet I had managed to gain not one pound of muscle. I tried all the popular "weight gaining" products at the time. Very expensive stuff like Cybergenics, weight gainer powders, Boron, amino acid tablets, etc. The list goes on.

Needless to say, none of it worked. I began to give in to the fact that I just could not gain weight. "It's because I have a fast metabolism", I was told. I had been thin my entire life, and I would have done just about anything to gain weight. For years I did not know what it felt like to weight more than 138 pounds. I was even underweight as a child.

After I was born, I had to remain at the hospital for an extra seven days because of my weight. Understand, this was not just some overnight problem for me my lack of size had plagued me my entire life. In my teen years, I took up the martial arts in hopes of learning to defend myself against the much larger kids at school. Too ashamed of my appearance, I was rarely seen without my shirt in the summer time. To thin, I was not allowed to play sports in high school or college.

When I speak, I speak from first hand experience. I am not some guy who is naturally athletic, or genetically gifted. I had always been thin, and I would still be thin if I had listened to everyone around me telling me why I couldn't gain weight.

You can do it too; I'm not that special.





The Words Od Eric Browser,For People Who Have Been Training For Awhile




I have added 30 lbs of muscle over the last two years by utilizing this program. Nothing I have ever done before comes close to the results that this program has produced...

Stuck in a rut? Failing to make any more measurable gains in size and strength? Do not expect DIFFERENT results from doing the SAME things! If you have been training for several years, chances are your body has fully adapted to the workouts you have been throwing at it time and again. The human body is an ADAPTIVE MACHINE, and it prefers homeostasis. This simply means that your body will fight your efforts to add any more muscle to your frame with all it's might. The body and it's systems do not want change, so if you wish to get bigger, stronger, and leaner, you are going to have to FORCE change, and do so in a way that does NOT allow your body to ever FULLY adapt to the workload that you present to it. Enter POWER/REP RANGE/SHOCK, an intensive, cyclical program that will provide novel stimuli to your muscles each week, and will approach growth through several unique mechanisms. The following will provide a "template" for you to work with, but each individual can "tweak" the program slightly (exercises used, workout split, days per week training) to fit precisely to their needs. Just as long as the basic principles and premise is followed, you should be able to reap the full muscle building benefits of the program.



Back
POWER: week 1

- Rack deadlift...3 x 3-6
- Bent row...3 x 4-6
- Weighted chin...2-3 x 4-6
- CG seated row...2-3 x 4-6

REP RANGE: week 2

- CG weighted chin...2 x 6-8
- WG T-Bar row...2 x 8-10
- Dumbell row...2 x 10-12
- Pullover...2 x 12-15

SHOCK: week 3

- Pullover/WG pulldown superset...1-2 x 8-10 each
- Stiff arm pulldown/reverse grip bent row...1-2 x 8-10 each
- CG seated pully row dropset...1 x 6-8, drop, 6-8, drop, 6-8



Biceps/Triceps
POWER: week 1

- Barbell curl...2 x 4-6
- Preacher curl...2 x 4-6
- Hammer curl...1-2 x 4-6
- CG bench press...3 x 4-6
- Skull crush...2 x 4-6
- Single arm dumbell extension...1-2 x 4-6

REP RANGE: week 2

- Alternating dumbell curl...2 x 6-8
- Cable curl...2 x 8-10
- Concentration curl...1-2 x 10-12
- Weighted dip...3 x 6-8
- Pushdown...2 x 8-10
- Kickback...1-2 x 10-12

SHOCK: week 3

- EZ bar curl/CG chin superset...1 x 6-10 each
- Preacher curl/reverse curl superset...1 x 6-10 each
- Dropset cable single arm curl...1 x 6-10, drop 6-10
- Pushdown/CG bench press superset...1-2 x 6-10 each
- Reverse grip pushdown/incline overhead extension superset...1-2 x 6-10 each
- Dropset weighted bench dip...1 x 8-10, drop 8-10



Chest
POWER: week 1

- Dumbell bench press...3 x 4-6
- Incline press...3 x 4-6
- Weighted dips...2 x 4-6

REP RANGE: week 2

- Incline dumbell press...3 x 6-8
- Bench press...3 x 8-10
- Flye...2 x 10-12

SHOCK: week 3

- Superset...cable crossover/incline smith press...1-2 x 8-10 reps each
- Superset...incline flye/dips...1 x 8-10 reps each
- Dropset...machine bench press...1 x 8-10, drop 6-8, drop 6-8 optional



Deltoids
POWER: week 1

- Military press...2-3 x 4-6
- Upright row...2-3 x 4-6
- "Cheat" lateral...2 x 4-6

REP RANGE: week 2

- Single arm dumbell press...2 x 6-8
- Bent lateral...2-3 x 8-10
- Cable side lateral...2 x 10-12

SHOCK: week 3

- Seated side lateral/hammer machine press superset...1-2 x 8-10
- Severse pec deck/WG upright row superset...1-2 x 8-10
- Cable front raise dropset...1 x 6-8, drop 6-8, drop 6-8 optional



Legs
POWER: week 1

- Squats...3 x 4-6
- Leg press...3 x 4-6
- Single leg extension...2 x 4-6
- Lying leg curl...3 x 4-6
- Stiff deadlift...2-3 x 4-6

REP RANGE: week 2

- Leg extension...2 x 8-10
- Hack squat...3 x 10-12
- One legged leg press...3 x 12-15
- Lying leg curl...2 x 6-8
- Stiff deadlift...2 x 8-10
- Single leg curl or seated leg curl...1-2 x 10-12

SHOCK: week 3

- Superset: leg extension/front squat...1-2 x 8-10 each
- Superset: leg extension/sissy squat or leg press...1-2 x 8-10 each
- Dropset: lunge...1 x 8-10, drop, 8-10
- Superset: leg curl seated or lying/toes pointed hyperextension...1-2 x 8-10 each
- Dropset: single leg curl...1-2 x 8-10, drop, 8-10


--------------------------------------------------------------------------------


I personally suggest that you do 3 full P/RR/S cycles before taking 1 full week off from the gym in order to recharge the nervous system and allow for some tendon, ligament, and joint repair. Within the confines of the workout, attempt to achieve greater levels of intensity with each passing cycle, and strive to keep the stimulus you present your muscles novel and dynamic. Force your body to "keep up" by getting bigger and stronger, without allowing it to fully adapt to what is going on.





QUOTE
The existence of the so-called "upper", "lower", "inner" and "outer" pectorals along with the assertion that it is possible to isolate one or more of these to the relative exclusion of the others in training, are among the most firmly entrenched myths in Strength Training and Bodybuilding circles. In fact none of these truly exist as either separate and distinct muscles or regions in a functional sense. Even though it could be argued that there appears to be a structural distinction between the upper and lower pectorals (and some anatomy texts do in fact support this distinction though not all do) because the pectoralis-major does originate from both the sternum and the proximal or sternal half of the clavicle along it's anterior surface (it also has connections to the cartilages of all the true ribs with the frequent exception of the first and seventh, and to the Aponeurosis of the external oblique muscle), this is considered to be a common (though extensive) origin in terms of the mechanical function of the muscle. Thus the pectoralis-major is in fact for all practical purposes one continuous muscle with a common origin and insertion, and functions as a single force-producing unit. The terms upper, lower, inner and outer are imprecise and relevant only in order to make a vague subjective distinction between relative portions of the same muscle for descriptive purposes. They are vague and imprecise terms because there is no clearly delineated or universally defined border between them.
Further it is not physically possible either in theory or practice to contract one region of a single muscle to the exclusion of another region or regions (as a Biomechanics Professor of mine once demonstrated to a bunch of us smart-ass know-it-all's taking his course, using EMG analysis). When a muscle contracts it does so in a linear fashion by simultaneously reducing the length of its constituent fibers and thus its overall length from origin to insertion. Even where a single muscle is separated into multiple functional units that are clearly defined such as the triceps (which are referred to as "heads" by Anatomists and Biomechanists), because they share a common point of insertion in order for one head to shorten all must shorten. This only makes sense if you think about it because otherwise there would be "slack" in one when the other shortened, which as we know does not occur. Note that there are some special cases where one head of a muscle must actually lengthen when the other shortens (e.g. the posterior head of the deltoid in relation to the anterior head during the positive stroke of fly's), the point however is that even in these special cases there is no "slack" because there is in fact contractile activity (whether concentric or eccentric) throughout the muscle.

That is not to say however, that all fibers in different areas, or heads are necessarily shortened to the same degree during a particular movement. Depending on the shape of the muscle, the joint geometry involved, and the specific movement being performed, fibers in one area of a muscle or head may be required to shorten more or less than in others (or even to lengthen) in order to complete the required movement. For example during a decline fly though muscle fibers in all regions of the pectoralis-major must shorten as the upper arm is drawn towards the median plane of the body, because of the angle of the arm in relation to the trunk the fibers in what we commonly refer to as the lower pecs will have shortened by a greater percentage of their overall length than those in the upper region of the muscle by the completion of the movement. Conversely when performing an incline fly there is greater shortening in the fibers towards the upper portion of the muscle than in the lower.

Many proponents of the so-called "isolation" approach to training claim that this proportionally greater shortening of the fibers equates to greater tension in the "target" region than in others, and therefore stimulates greater adaptation; but this is completely at odds with the cross-bridge model of muscle contraction which clearly shows that as fiber length decreases tension also declines due to increasing overlap and interference in the area of the cross-bridges. Some also contend that the fibers called upon to shorten to a greater degree tend to fatigue faster than others and that therefore there is greater overall fiber recruitment in the region where this occurs, and thus a greater stimulus to growth; but there is no evidence to suggest that a fiber fatigues faster in one position than in another in relation to other fibers in the same muscle. In fact it has been shown that Time Under Tension (TUT) is the determining factor in fatigue and not fiber length. In fact fiber recruitment tends to increase in a very uniform fashion throughout an entire muscle as fatigue sets in.

The ability to "isolate" a head, or region of a muscle to the exclusion of others by performing a particular movement, or by limiting movement to a particular plane and thus develop it to a greater degree, is a myth created by people who wish to appear more knowledgeable than they are, and has been perpetuated by trade magazines and parroted throughout gyms everywhere. It is pure non-sense and completely ignores the applicable elements of physiology, anatomy, and physics in particular. Quite simply the science does not support it, and in most cases is completely at odds with the idea.
Regardless of the science however, many people will remain firmly convinced that muscle isolation is a reality because they can "feel" different movements more in one region of a muscle than in others. This I do not dispute, nor does science. There is in fact differentiated neural feedback from motor units depending on the relative length of the component fibers, and this feedback tends to be (or is interpreted by the brain as) more intense when the fibers in question are either shortened (contracted) or lengthened (stretched) in the extreme. However this has to do with proprioception (the ability to sense the orientation and relative position of your body in space by interpreting neural feedback related to muscle fiber length and joint position) and not tension, fatigue, or level of fiber recruitment. Unfortunately it has been seized upon and offered up as "evidence" by those looking to support their ideas by any means available.

Muscle shape is a function of genetics and degree of overall development. As you develop a muscle towards its potential, it does change in appearance (generally for the better) but always within the parameters defined by its inherent shape. A person who tends to have proportionately more mass towards the upper, lower, inner or outer region of his or her pectoralis-major will always have that tendency, though it may be more or less apparent at various stages in their development, and in most cases appears less pronounced as overall development proceeds. That is not to say that training a muscle group from multiple angles is totally without value. In fact we know that even subtly different movements can elicit varying levels of fiber recruitment within a muscle in an overall sense (i.e. in terms of the percentage of total available fibers) due to differences in joint mechanics, and neural activation patterns, as well as varying involvement of synergistic and antagonistic muscle groups involved. So by all means experiment with different angles in your training, but don't expect to be able to correct so-called "unbalanced" muscles this way, or to target specific areas of a particular muscle. Work to develop each of your muscles as completely as possible and shape will take care of itself. If you want to worry about "shaping" you should pay more attention to the balance between different muscle groups and work to bring up any weak groups you may have in relation to the rest of your physique.






Poping Bicept's In Only A Few Easy Step's!




STEP 1: Dial The Right "Frequency"



Because the biceps are a smaller muscle, and because they're used in compound exercises when working other muscle groups, your arms are more prone to overtraining than any other muscles of the body.

I'm sure you understand by now that your muscles grow when they're at REST, rather than work. So if you keep your biceps at work by targeting them more than once a week, you're setting yourself up for major disappointment!

This is where the "more is better" crowd will lose every time! Stick to only one targeted arms workout per week and you'll give them the much needed recovery time to pack on new muscle.




STEP 2: Upgrade Your R.O.M.


No, I'm not talking about your computer…I'm referring to your muscle's range of motion.

If you ever want to grow your bi's to their full potential, you must concentrate on hitting all of the muscle fibers. The only way to do this is to take the muscle from full "pronation" (arm extended, palm facing body) to full "supination" (arm curled, pinky turned in toward body).

Look, you're not impressing anyone, especially that cute red head over by the water cooler, by stacking up the EZ curl bar with massive weight and flopping your body all over the place like a hooked bass, your arms barely lowering the weight to full extension.


You MUST start every single repetition with your arms fully extended. (Yes…I know this makes the exercise harder, now grab a tissue, wipe away the tears, and get back to work!)

A little trick to help you accomplish this is to first briefly (like a split-second) flex your triceps before raising the weight each rep.

Since the only way to do this is to fully extend your arm, you'll know you've begun each rep in the optimum starting position to stimulate new muscle growth.



STEP 3: Recruit Your " Main Squeeze"



To get your biceps to become bigger, you first have to show them what it's like to be bigger.

Here's how it's done…

At the very top of your curl, when your bicep has peaked, squeeze the muscle hard for approximately 1-2 seconds.

Your curl will make the muscle contract, effectively setting up a "road block" in your bicep. That final squeeze you add will literally force blood, water, and lactic acid into the contracted muscle, causing an intense "pump".

In response, the muscle cells themselves begin to thicken, the capillaries within the muscle grow in number and size to hold more fluid, and stem cells split off to form new muscle fibers, already pre-programmed for growth.




Well, there you have it…but now comes the hard part. And NO, I'm NOT talking about picking the weight up and starting your curls.

The hard part will be forcing yourself to actually DECREASE the weight you currently use because, chances are, you've been padding your ego by working too heavy, while sacrificing the most effective ego-booster…BIGGER BICEPS!

But trust me, the growth you'll get from incorporating these 3 principles will more than compensate for your initially bruised ego.


Refeeds are typically done while cutting; that is, creating a caloric deficit so your body is forced to rely on fat as an energy source. Most people on any low carb diet---i.e. less than 1 gram per pound of bodyweight per day----or implementing any extreme caloric deficit should incorporate a refeed.

Refeeds are used to raise Leptin, refill muscle and liver glycogen, as well as providing sanity release from dieting as your body is temporarily thrown into a state of metabolic balance. Please read Par Deus's first article on Leptin and its benefits:
Link

A Quick, Layman's Explanation of Leptin:

Leptin is considered an anti-starvation/metabolic balance hormone. As your Leptin levels decrease, the signal is sent to inform that your body is going into starvation mode. As your body goes into starvation mode we all know what happens---your fat loss slows down immensely or in some cases to a screeching halt. So in order to kick fat loss into gear again, you need to raise Leptin.

Common sense dictates that the body seeks balance, and if you endeavor to upset that balance---you have to outwit your body. We were built for survival, and unfortunately for the fitness/bodybuilding-oriented folk, "survival" didn't mean 170 pounds of ripped mass at 6% bodyfat.

I can't count have many people have asked this the question of why they lost fat after cheating. They have been so good and clean on their diets for weeks and results slowed down, they got frustrated, they cheated and 2 days later woke up lighter and leaner than before the cheat. Main reason right there, they raised Leptin. Raising Leptin levels will give your body the kick-start it needs for the next few days to keep you out of starvation mode as you diet. As long as your body is out of starvation mode, the faster the fat loss, and the less likely you are to lose LBM, while suffering on all counts in the process. Like I said above, this a brief explanation and there is so much info on Leptin so please read Par's articles for a more detailed and scientific explanation.

Eat Your Way Out of Metabolic Hell

So, now you are probably thinking, "How do I increase Leptin?" Ready for this...........Eat lots of Carbs. I'm not necessarily talking slow burning carbs here either folks. I know, most of you reading this right now are thinking is she talking about? Simple explanation: The way to raise Leptin is to actually spill over into your fat cells.

Yes, I said it, SPILL OVER!! In order to fill your muscle glycogen you need carbs, once your glycogen stores are full, you are now spilling over into your fat cells. 1 Step Backwards for 2 Steps Forward. Remember folks you can't get fat in 1 day. This is not a new method of fat loss either. Bodybuilders are doing this everywhere and with fantastic results. A Refeed Day is NOT and I repeat NOT a cheat day. There are rules to this that should be followed to avoid gaining fat during the refeed

Typically a refeed is done every 4-5 days, although the frequency of the refeeds can be adjusted to suit the person. The lower the caloric deficit you've managed to create, and the lower your BF%, the more often you should refeed. Why? Because your leptin levels plummet as your calories drop and your bodyfat decreases; remember, we want to stay out of starvation mode.

How do you know when you should refeed more often, or less often? Unfortunately, it's a personal process of trial and error; no two people are alike, and the general refeed plan is just that---general. If you find yourself constantly obsessed with food, and if you're losing a significant amount of muscle and strength, you may have to refeed more often (perhaps every 2 to 3 days).

A refeed may also be shorter or longer in duration. For instance, some prefer to refeed for 24 hours, in which case they may consume anywhere from 25 to 50% above their maintenance caloric intake. For shorter refeeds, such as those that last for 6 to 10 hours, people often do not count their calories; rather, they pack down as much as they can within the designated time-frame to ensure that their fat cells have a hefty bag of new fuel to stoke the metabolic furnace with.

Appropriate Foods For a Refeed

During your refeed, you should aim for around 1G of protein per Pound of body weight, keeping your sources of fat to a minimum, so you are only taking the fats that are in your proteins and carbs. Now, here is the fun part: CARBS! Yes, lots and lots and lots of carbs. Not necessarily brown rice, sweet potatoes and oats here either:
•Bagels
•Pasta
•Rice
•Bread
•Cereal
•FF/SF Ice Cream
•Pancakes
•Waffles
•Crackers
Yes, all the things we crave If its low fat or fat free, have at it! Remember, no additional fats.

You should keep fructose to a minimum though. Sticking to 50-100G [for fructose, probably lower, like 25%] for the day is plenty. Remember sucrose is 50% glucose and 50% fructose so seeing that we need to watch our fructose, staying away from sucrose (table sugar) is probably best. Yes, in order to elevate our levels of leptin, we want to spill over muscle, not liver glycogen.

Wrapping It Up---For Now

Now, don't bother stepping on the scale the next day---you will be heavier. Remember, carbs make you hold water but in a day or two it will be all gone and your body will burning fat like mad again.

Some of you being scared of other carb sources may opt to refeed with slow burning carbs and that's fine. Just keep in mind its going to take a hell of alot more oatmeal to raise Leptin than 1 bowl full, and if you're doing a relatively short refeed, you may want to reconsider your food choices; a short refeed absolutely requires a drastic increase in your calories, as well as the consumption of refined carb sources.

The fiber in the slow burning carbs can be counter-productive when trying to raise leptin, that's why we use refined carbs. Refined carbs raise Leptin much quicker and you won't feel like a stuffed pig all day for having to eat 3C of oats to equal what 1 bagel could have done. And for those of you who are scared, it's up to you to look at the entire picture, especially in light of how the body seeks balance. Then, if you truly understand the issue, you will no longer fear the calculated nature of a refeed, even if it requires you to consume those foods that are typically----at least in your mind----forbidden.

Anyone carb cycling does not need to follow this refeed. Reason being is because the carb cycling diet uses the High Carb days (every 2 days) to raise Leptin.



Body Fat Estimator
Calorie Calculator
Target Heart Rate Calculator
Advanced Pyramid Calculator


Updates: March 28th




This is an EZ Bar curl that he is doing in the picture for those of you that don't know what an EZ bar is or how to do it.




This is incline dumbbell much like incline bench press, you can do which ever you prefer but try and get both if you can. As you can see you have your bench 1 knotch from being flat down so your on an incline and you lift both hand's over your head and come back down to square up and repeat.




This is the way your bench should be set up for doing Incline Bench Press.




This is what Decline bench press looks like. I don't really reccomend doing it because it can hurt your sholders but some find that it works.

Updates April 6th: Pictures to help you understand what they are and how to do them.




Position 1: Feet Shoulder Width,Knees to 90 Degrees,Butt Out,Back Straight,Head Up.

Position 2:Lift weight up and into waste,knees slightly bent,back straight,head up,lift with your legs until you are standing with the bar at your weist and your back straight. This will work your legs and back!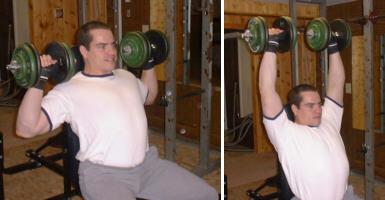 Shoulder Press, free weight dumbbell.Same thing as incline dumbbell for chest instead you have the beck of your bench straight up and you push up with your hands to get over your head then come back down to square up and reapeat. You can also do this with a straight bar sitting or standing. Just use your shoulder's and push the bar over your head then back down and up again.




This is Leg press simply sit down and push out with your leg's don't get any easier.

And for you home gym owners this is what your's would look like.




This is a Deluxe Press/Hack Squat. Another leg workout, what you do here is you simply start standing up then you bend your kness down try to stay 90 degrees then when you are about square use your legs and push yourself back up.

Update: Aug 2nd 2005

Methyl-1-Testosterone (aka M1T)


Methyl 1-testosterone, or 17aa-1-testosterone, is the methylated version of the steroid 1-testosterone. This structural modification makes steroids much more orally bioavailable by inhibiting breakdown in the liver. Although it has only been widely available for a short period of time, feedback on this compound indicates that it may be the most effective legal prohormone/steroid product on the market regardless of delivery method, and it is hands down the most effective oral product. On the other hand, most users report a wealth of side effects, and this compound is not to be taken lightly. It does not have a long history of use or a well-established safety profile, and proper precautions should be taken.

The profile of methyl 1-test is similar to that of 1-test – it does not convert to estrogen, and it is highly anabolic and moderately androgenic (less than 1-test). When compared to orally administered methyltestosterone, methyl 1-test is 910-1600% as anabolic and 100-220% as androgenic.

The side effects reported by users of methyl 1-test are many and individual reactions vary considerably. The most commonly reported side effect is lethargy, which can range from mild to severe. Other common side effects include increased blood pressure, bloating, joint pains, cramps, mild headaches, insomnia, aggressiveness, and irritability. Many users also find that methyl 1-test decreases appetite, which can be harmful or beneficial depending on one's goals. These side effects can be reduced by lowering dosage or taking smaller doses more frequently. Combining it with another androgen (such as 4-AD) may also help, but feedback on this is limited.

Another concern with methyl 1-test (and methylated steroids in general) is hepatotoxicity. Although this tends to be exaggerated, it is still prudent to take certain precautions. First and foremost, other substances that are toxic to the liver (such as alcohol) should be avoided to avoid placing extra stress on the liver. If methyl 1-test is stacked, it would be best to stack it with something other than an oral steroid/prohormone, such as a transdermal. Milk thistle, alpha lipoic acid, and N-acetyl-cysteine are commonly recommended to help protect the liver. For further information on 17aa steroids and hepatotoxicity, see the following article:

Hepatotoxicity: Fact or Fiction, by Roy Harper

When taking methyl 1-test, it is best to start out with at least a week at a dose of 5-10 mg to see how one reacts. Many users find this range to be effective, while others feel the ideal amount is 20-40 mg. It comes down to the experience,
f*ck me you made a mess of that. Just removed all your center tags. You know, you can just have one at the start, and one at the end, instead of on every paragraph and unclosed ones. Put some of your text formatting back in the table tags, and that's about it. Do it again and I'll cry.