Sketchup Building Tutorial, Part 3 - Interior
Introduction
When I first started the Sketchup Building tutorial, I didn't intend to make the texturing part, but I did. Now it looks like part 3 making the interior of the building... Then getting it in game... I'm sure you'll be able to texture it..

Enough waffle again... Lets move on
Into Sketchup Again
Yup, we're back in Sketchup, I won't show you and examples because you should be able to refer back to part one of the tutorial, to learn how to use Sketchup, I will be showing you some more features of Sketchup though.

Ok, using the mouse tool
now left click and drag a box around the building, each part should turn yellow.
This means that you've selected the building. Now for ease of modeling the interior we're going to group all these faces together, so they are one. Do this by right clicking on the object and choosing make group.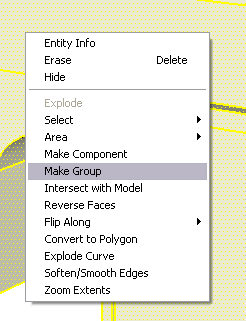 Once this is done a yellow frame should appear around the object when you select it.
Ok, now we need to start on the floor for the interior, just so we can move the building out of the way, and have a clear view on the objects we are making.

Draw lines from each corner of the bottom of building along the blue axis, (down) this will provide us with the basis for our interior.
Should look something like that. Now join them up, and you'll see that it will make the whole of the bottom part 3D, no worry. Just right click all the new side faces and choose deleate.. Simple, should have something that remsembles the ground floor interior.
Lets remove those building lines we made, and move the building up along the blue axis by using the move tool
Move it up so you can fit the building in the gap again.
Now that you've done that we need to put a marker for the hieight of the interior, so we know the correct height, we're going to use the Dimension tool which will put a measureament on the height that we want.
Click this, then click on the a bottom corner of the building and then click at where the ground floor ends, a line with numbers on should appear drag this out so its away from the building.