In this tutorial I hope to show you how to use the 2DFX system to place lights.
| | |
| --- | --- |
| Notepad | On your computer |
| Zmodeler | Here |
Many people think that the co-ordinates for a light are relative to the game world. This is wrong, the light posistion is not relative to the game world but to the object that it is on.
For this example I'm going add four lights onto the corner of my hut.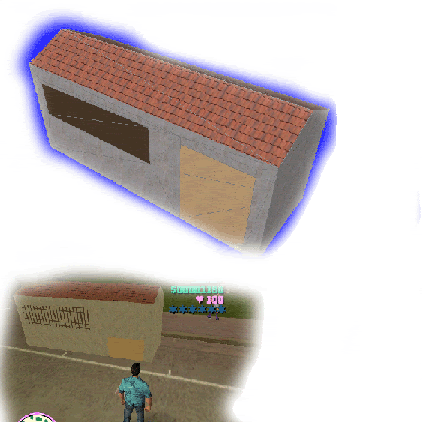 Ensure that you have the object in game and working, If you have an object and would like to get it in game then please follow this tutorial
http://www.gtaforums...pic=124507&st=0

First off we need to get the co-ordinates of our object from zmodeler, zmodeler messes the co-ordinates up slightly, X: -29.312 Y: 3.21 Z: -420.123 is what you'd get from zmodeler. But its really,
X: 29.312 Y:420.123 Z:-3.21 zmodeler switches the Z and Y around and the X is the opposite of what zmodeler report it as. (Thanks To Deathsquad For The Co-Ordinates in Zmod)
In zmodeler you need to locate on the object where you want the light, so open up zmod and import your object, I'll be using a Top and Side view, to locate where I want them.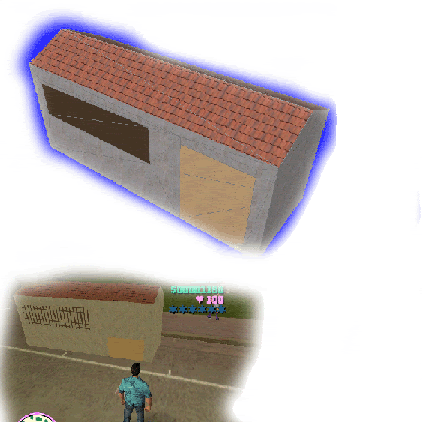 Click Picture For Bigger Picture
This is where you'll find the co-ordinates

I'm only going to do one light as the rest should be basicly the same to do
In a view (I chose top first) hover the mouse over roughly where you'd like the light to be, without moving the mouse look at the co-ordinates at the bottom right

In my case we are after the X and Z co-ordinates which are
Z = 2.7110 and X = 1.1046 Thats what zmodeler reports they are, we'll wait till we have a full set, Now do the same for another view (I chose left) And zmodeler gives me the Y value to be 2.095, we now have a full set of co-ordinates
Z = 2.7110 Y = 2.095 X = 1.1046 These are correct and don't need fixing, sometimes zmod reports them wrong and sometimes it doesn't.
We are now finished with zmod so you can close that
We are now into notepad, you need to open up the IDE that the object is in, eg if you had an object called hut in roads.ide then then open roads.ide.
364, 0, 0, 0, 255, 255, 0, 200, 0, "coronastar", "shad_exp", 100, 8, 1, 0, 40, 0, 0, 0, 0 that is a 2dfx light code for a day and night light there are others, if you'd like to know more on these then read this
http://www.gtaforums...howtopic=102833
This is the screen you'd be presented with when you've opened your IDE file
CODE

ID X Y Z
364, 0, 0, 0, 255, 255, 0, 200, 0, "coronastar", "shad_exp", 100, 8, 1, 0, 40, 0, 0, 0, 0,



For this step change the ID number to the ID number of your object, and add the apporiate co-ordinates at the correct part

So it would look something like this


CODE
4805 1.1046, 2.095, 2.7110, 255, 255, 0, 200, 0, "coronastar", "shad_exp", 100, 8, 1, 0, 40, 0, 0, 0, 0




And that should be it, save that and test and you should end up with something like this, the color I've given you should be yellow you can change this, read this http://www.gtaforums...howtopic=102833 for more details.

It takes a bit playing around with the co-ordinates to get it perfect